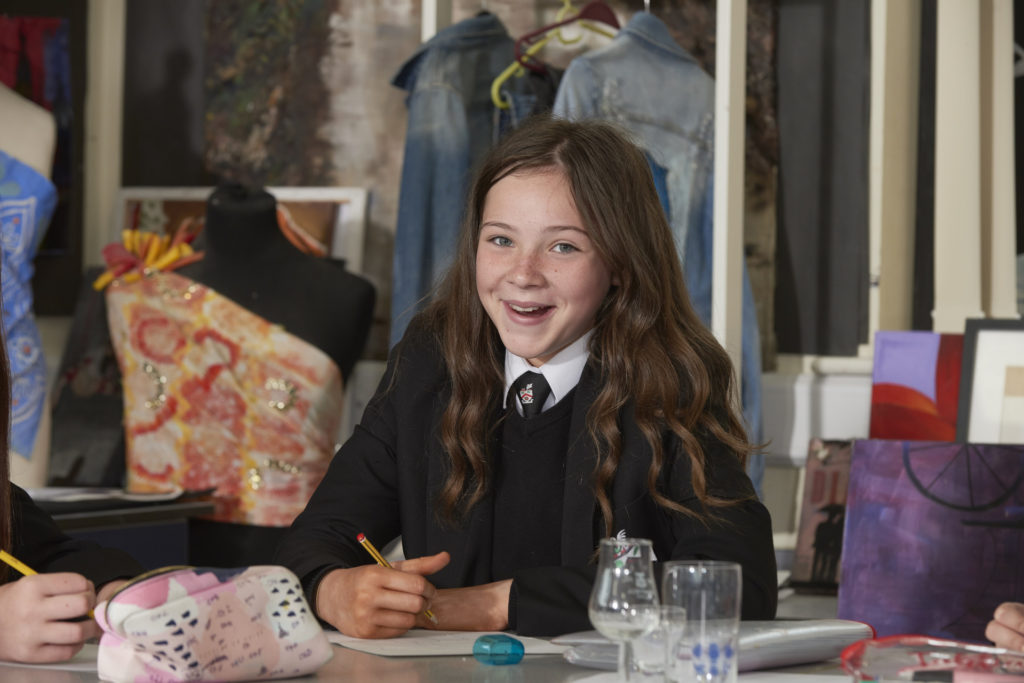 Add a header to begin generating the table of contents
Add a header to begin generating the table of contents
Fred Longworth High School aims to provide a curriculum which provides all students with the foundations of knowledge and skills to enable them to be lifelong learners and achieve success in school and throughout their life. Furthermore, they will be equipped with a good understanding of the world around them so that they can make a positive contribution to their local, national and international communities.
The school is committed to providing a curriculum that is broad, balanced, challenging and fosters a love of learning. We match our curriculum to the abilities, interests and aspirations of our students, to give every child the opportunity to strive for personal excellence. As a school, we aim to open doors for every pupil, and we therefore value the contribution that academic, creative, practical and vocational learning brings to a child's development. Our hope is that every child who leaves Fred Longworth High School has the qualifications, skills, knowledge and character to access aspirational Post-16 opportunities and to lead a life that includes positive relationships, resilience and financial independence.
Our Curriculum intent is enshrined in the school's B.E.S.T vision:
Belonging, Engaging, Succeeding Together
How our curriculum is organised and delivered
In order to fulfil these ideals, our five-year curriculum requires pupils to engage with a wide range of subjects in Year 7, 8 and 9 and then provides a more bespoke approach through our "options routes" in Years 10 and 11.
Beyond the classroom, we aim to open the door to a wide range of experiences. The curriculum is supported by a rich and varied extra-curricular diet, which all students are encouraged to take part in.
The diagram below outlines in visual form, an over view of our curriculum (click to enlarge).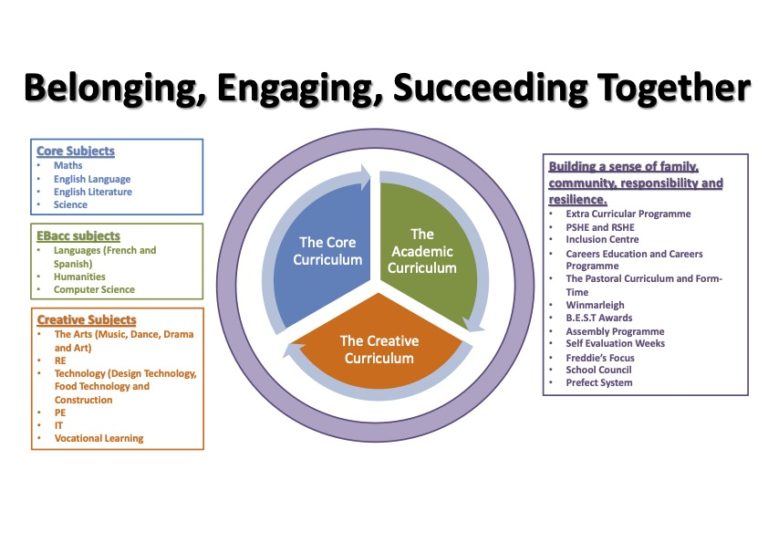 Years 7 to 9 (Key Stage 3 or KS3)
The KS3 curriculum serves a clear purpose in every subject at Fred Longworth High School. Curriculum teams plan their schemes of work to ensure they deliver the relevant content of the national Programme of Study, and that high challenge, enjoyment and enquiry are at the heart of learning.
Year 7 students study a broad range of non-core subjects from day one. MFL, History, Geography, Religious Studies, Computing, Technology and Physical Educations are integral to our curriculum alongside a strong emphasis on Art, and the Performing Arts, an enduring legacy of the school's status as a successful arts college.
At KS3 class groups are organised into two 'bands' of 5 parallel groups North and South. We use a mixture of mixed ability teaching and setting. Core subjects are taught in sets whilst other areas of the curriculum favour more mixed ability groups. In both Y7 and Y8, the Arts are always taught in form groups and we do this deliberately to develop cohesion within each form, which in turn contributes significantly to the family ethos of the school.
Years 10 to 11 (Key Stage 4 or KS4)
The options process takes place in Year 9 at Fred Longworth High School. Through this process, we aim to give our pupils as much choice and flexibility as possible, whilst ensuring they follow examination courses that lead to positive outcomes and give them access to Post-16 opportunities at the correct level. Year 9 students are allocated a recommended options 'route' (Q or U) according to their ability and aspirations and are asked to choose up to four Options subjects. Option Route Q prioritises the English Baccalaureate subjects, which we believe opens the doorway to many opportunities in employment and Higher Education; in addition, students in Option Route Q may access the Triple Sciences. Students in Option Route U can also access the EBacc should they choose to do so. There are a small number of students in Year 10 who can choose the Prince's Trust Programme as one of their option choices . This has been running successfully for a number of years and many students who have participated have found routes directly into employment because of the skills that they have developed through the programme.
A range of Vocational Qualifications are available to students in every options route. We allow the same amount of curriculum time to Vocational Qualifications as GCSE courses to allow pupils the experience of exciting and relevant work-based projects alongside their assessed content. Please see the Options page for more information on the qualifications we offer on each route.
The teaching of option subjects at KS4 is in largely mixed ability groups whilst the teaching of English, Maths and Science is across three ability bands. 
Raising aspiration is an absolute key tenet to our curriculum. We have very strong provision for careers education, which was recently recognised through receipt of the Inspiring IAG Award for Excellence in Careers Provision. As well as discreet careers lessons in Y10 and Y11, a number of Faculties have also established links with external providers and employers who will regularly come into school to speak to students, or to arrange visits to places of employment or further education.  We organise careers conferences and world of work theme days at various points throughout the year. Our STEM links and links within the Construction industry are particularly strong and continue to evolve; the governing body ably supports the school in growing these links.