Remote Education Provision
This information is intended to provide clarity and transparency to pupils and parents or carers about what to expect from remote education where national or local restrictions require entire cohorts (or bubbles) to remain at home.
For details of what to expect where individual pupils or form groups are self-isolating, please see the final section of this document.
To help establish routines, students will access a remote Form period during their usual Form time slot each day.  This will provide an opportunity for students to 'touch base' with their Form Tutor, access any key messages or assemblies and prepare for the day ahead. 
Live Lessons Using Microsoft Teams and Remote Provision
Our students will receive a blended experience whilst learning remotely. Live Lessons will be teacher-led with input ranging from anywhere between 25 to 50 minutes depending on what is being taught. As well as live content delivery and explanation in live lessons, our staff have been trained to 'create space' for students to allow them to complete work independently. Attendance registers will be taken for live lessons and there is an expectation of full participation from all students. Attendance is being monitored weekly and Heads of Year will follow up non-attendance.
Effective remote provision does not mean that students experience live lessons every lesson. Experience has shown that too much screen time can be detrimental to a child's learning, mental health and wellbeing; therefore, effective remote provision is varied. There will be times when students watch a pre-recorded lesson; at other times, they may be asked to work independently. Our provision will ensure that all of our students receive 5 hours of remote learning per day. This will also include direction and activities from our PE department to ensure that our students remain physically active during the current lockdown. It is also vitally important that the students take their break and lunch.
The curriculum has been refined and adjusted to specifically assist pupils during school closure and be responsive to their needs during this time. Staff will always provide clear guidance on how completed work is to be submitted. Work will be submitted via email or software such as One Note. It is expected that students complete all their work to the best of their ability. Class teachers, Heads of Year and Heads of Faculty will all carefully monitor the engagement of students working remotely.
Either the Head of Year or the classroom teacher will contact parents if there are any concerns with levels of engagement and problems with submission of work.
In the main, the normal class teacher will take responsibility for the setting of work for their class; however, in the event of a class teacher's absence due to illness, lessons may have to be assigned to other members of staff within a department.
Teachers will provide feedback on your child's work. Feedback can take many forms and may not always mean extensive written comments for individual children. For example, whole-class feedback or quizzes marked automatically via digital platforms are also valid and effective methods. You can expect to see a mixture of all of these.
These are the basic protocols that all students must adhere to when learning online. This is to ensure that the online environment is a safe and productive space for all.
Students should attend online lessons promptly.
Students are expected to engage fully with the lessons and interact appropriately.
Students must not behave poorly online and disrupt the learning of others. This includes shouting out inappropriate comments and misuse of the chat function within Teams. Students who persistently misbehave will be removed from lessons, parents will be contacted and appropriate sanctions will be put in place. We have updated the school's behaviour policy to reflect our online expectations, the updated policy can be found here.
The following slide is shared by teachers at the start of each on-line lesson: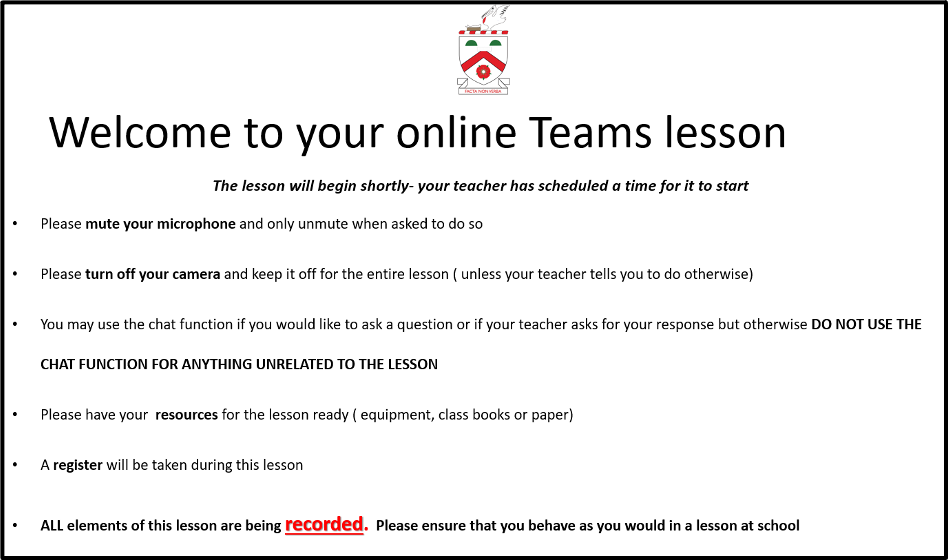 Faculties have invested in additional resources so that students can access work in the event of lockdown. Students have access to a range of booklets and on-line tools to support their learning. All students have been trained on how to use the main features of Office 365, including Teams and email, both of which will be important channels of communications between staff and students. There are videos on the school website which can be used as a reminder of how to use the systems. The link is here. If your child is still struggling to access the online learning platforms because they have forgotten their password, contact the IT support desk in school ictsupport@flhs.wigan.sch.uk.
If your child is having difficulty accessing provision because they do not have access to a laptop or other suitable device, please contact Mr Whalley on WhalleyJ@flhs.wigan.sch.uk
PASTORAL SUPPORT IS ALWAYS AVAILABLE, if there are any other issues you need to raise, contact your child's Head of Year.
We recognise that some pupils, for example some pupils with special educational needs and disabilities (SEND), may not be able to access remote education without support from adults at home. We acknowledge the difficulties this may place on families, and we will work with parents and carers to support those pupils. If you need further support contact:
Students may require new exercise books and additional materials such as basic stationery to complete their work at home. There is a stock of basic equipment available in the school reception. If your child requires any of this, you will able to come into school at any time between 9am and 3pm to collect what you need. A member of staff will be on hand to assist. Please note that if you do come on site, you must wear a mask and observe social distancing. We have also provided a large selection of reading books in the reception area, you are welcome to collect one of these for your child. We have also provided a reading list for students in both Key Stage 3 and Key Stage 4. These can be found here.
Remote Education for self-isolating pupils and form group bubbles
Where individual pupils or classes need to self-isolate but the majority of their peer group remains in school, the remote education provision will differ. This is due to the challenges of teaching pupils both at home and in school.
What happens if a proportion of a class is isolating and the rest of the students are in school as normal?
In these circumstances, students should still follow their normal timetables; teachers will communicate the work that needs to be completed by email and ensure that these students can access the same resources as their peers in school. This will also include instructions on how to submit the work for feedback. Due to the fact that teachers will be delivering to other students remaining in school, there may be a delay before the member of staff is able to send the work through to your child.
The file above is provided in PDF format and will open on most computers, tablets and smartphones without the need for additional software, but if you need to download a reader follow this link (computers only) or on tablets and smartphones use the Apple iTunes or Google Play stores.