It was wonderful to see so many parents and carers in school on Monday for our Student-led Conferences. Well done to all students and thank you to everyone who attended for their support.
Our Year 8 students took part in a 'World of Work' day on Wednesday.  This provided them with a real opportunity to consider their future aspirations with visits from a range of representatives from different industries.
This week we hosted a year group breakfast for all of our students who have achieved excellent attendance this year – congratulations to them all.
Freddie's brass band recently visited London. They were invited to perform at the Albert memorial outside the Royal Albert Hall followed by the bandstand at Windsor Castle. What an amazing experience! Well done to the team.
This week, some of our DT students were selected to visit our new build to help lay some of the final bricks for the new school.
On Thursday afternoon, a group of our students attended a Dance trip to watch 'Romeo and Juliet' at the Lowry.
On Thursday evening, we welcomed award-winning students and their parents and carers to our Prize Giving event.  We are incredibly proud of all of the students who received awards. Again, it was lovely to see so many parents and carers in school to support this event.
Talented dancer (and top student!) Millie Briggs came third in the 'Slow Dance' category at the prestigious World Dance Championships in Blackpool! We are so proud of you Millie – what an achievement!
Jay Taylor, Jacob Bent, Leo Livesey, Jake Rothera, Ewan Canton, Zack Roberts, Owen Fitzmaurice - Year 8
Not content with their incredible performance at this year's Factory showcase in Manchester, our Year 8 boys took it upon themselves to organise their own gig at the Botanical Gardens in Tyldesley last weekend. They treated the crowd to a set of ten songs and went down a storm! Well done lads!
| Year Group / Team / Individual | |
| --- | --- |
| FLHS Athletics Team (All Years) | Congratulations to all athletes who represented the school at this week's Wigan Schools' Athletics Championships. The Girls finished 1st, achieving the gold medal. An amazing effort by the team with some real superstar performers! |
| Ava Halliwell (Year 9) | Its official! Ava Halliwell has signed for Blackburn Rovers Ladies. A fantastic achievement. |
| Year 7 / Year 8 Cricket Team | The Y7/8 Cricket team continue to make progress and show a real passion to develop their skills in game situations. Unfortunately, they lost to a very good St Gabriel's team, but their desire to improve is commendable. Keep going! |
| Sophie Dudley (Year 7) | Y7 student Sophie Dudley won the Under 13 Trampolining competition in Bolton for the North West league. Congratulations Sophie! |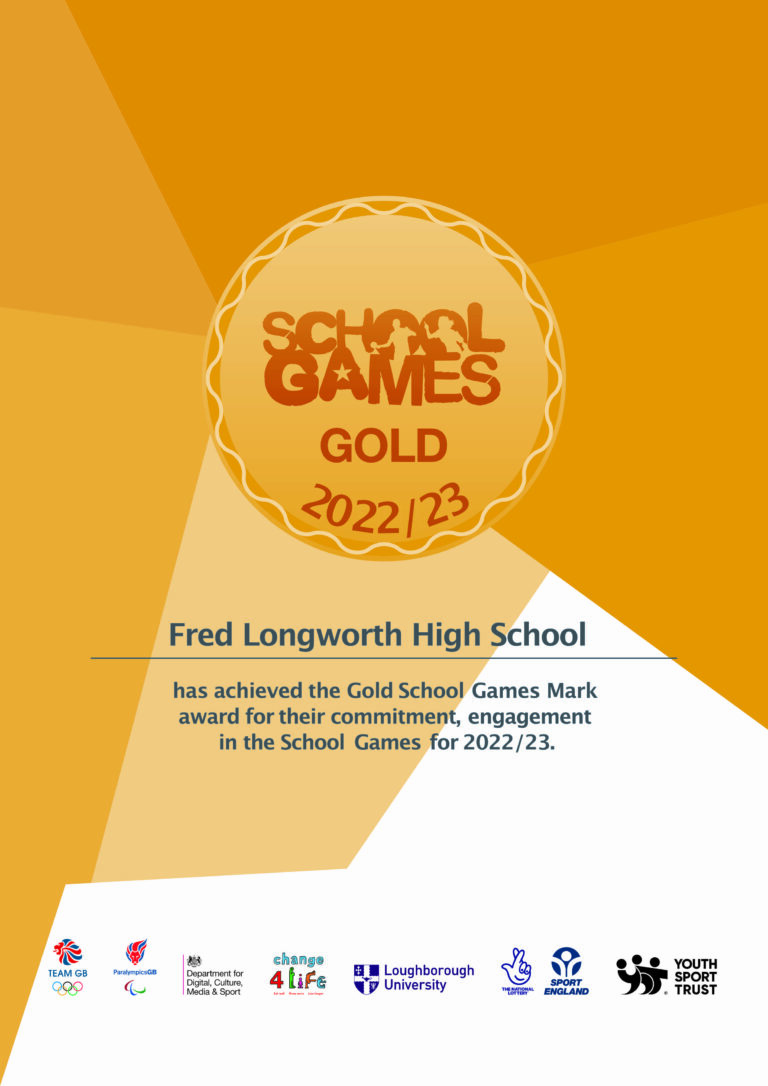 We are delighted to announce that Freddie's PE Faculty have achieved the School Games GOLD LEVEL Mark Award for the 2022/23 academic year. The School Games Mark is a government-led award scheme launched in 2012, facilitated by the Youth Sport Trust to reward schools for their commitment to the development of competition across their school and into the community. We are delighted that the department been recognised for their success.
The second award is in recognition of the faculty's continued engagement and participation in the Wigan Warriors emerging teams for all year groups throughout this academic year. All rugby players who have represented the school have done an amazing job. Roll on next year.
Please can we encourage all parents of our new Y7 students to ensure they have read their gifted, award-winning novel: 'When the Sky Falls'. We will be welcoming the author, Phil Earle, into school in the new year, and the text is a key part of the Y7 English curriculum. We recommend 10 minutes of reading per day.
For further information about this book, along with audio chapters, as read by a selection of our teaching staff, click here.
Homework and Self-directed study
Staff are continually encouraging our students to take pride in the quality of their written work. To help, we have introduced the new Freddie's Proofreading Guidance. Please encourage your child to check all of their work, avoiding making any basic errors by proofreading carefully: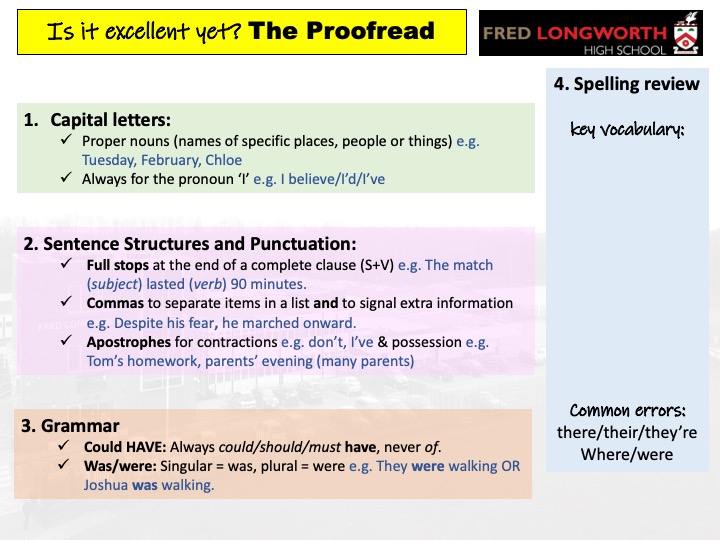 Dear Parents and Carers,
We are very keen to ensure that as many of our students as possible have good attendance. Please see the information below on the importance of good attendance.
Why is attendance at school so important?
When students are not frequently absent, their grades and reading skills often improve – even among those students who are struggling in school. Students who frequently attend school feel more connected to their community and develop strong social skills and friendships, which are important life skills.
How does attendance affect achievement in UK schools?
Of those who were persistently absent (below 90% attendance), 40.2% achieved the expected standard in reading, writing and maths compared to 83.9% of pupils with no missed sessions, and 71.9% who missed between 0 and 5%.(May 2022).
Does attendance affect GCSE results?
Students whose attendance drops below 94% will have missed 2 weeks of school. This has a significant impact on GCSE results. Students with no absence are over twice as likely to achieve 5 or more GCSEs at grades 5-9 including English and Mathematics.
Is attendance truly important?
Missing 10 percent, or about 18 days, of the school year can drastically affect a student's academic success. Students can be chronically absent even if they only miss a day or two every few weeks. Attendance is an important life skill that will help your child do well beyond school and secure employment in later life.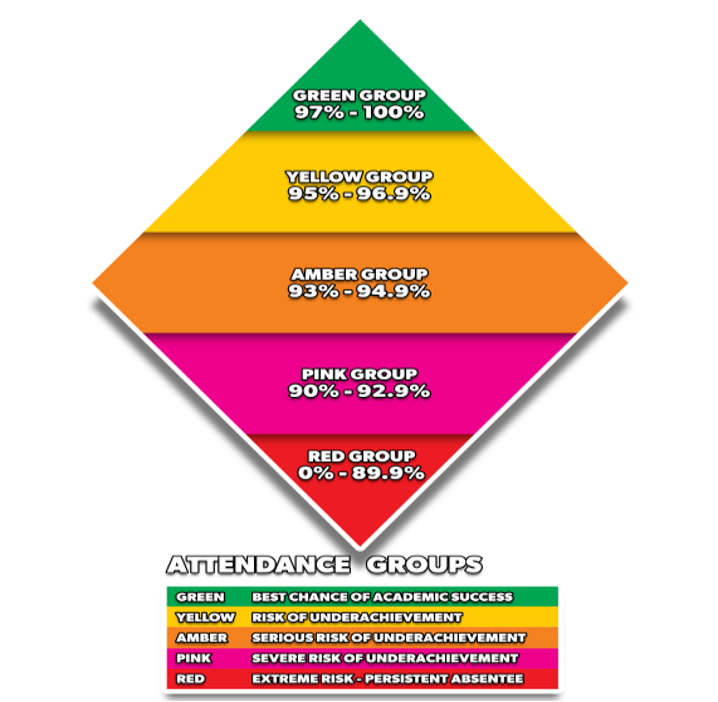 Message from the Headteacher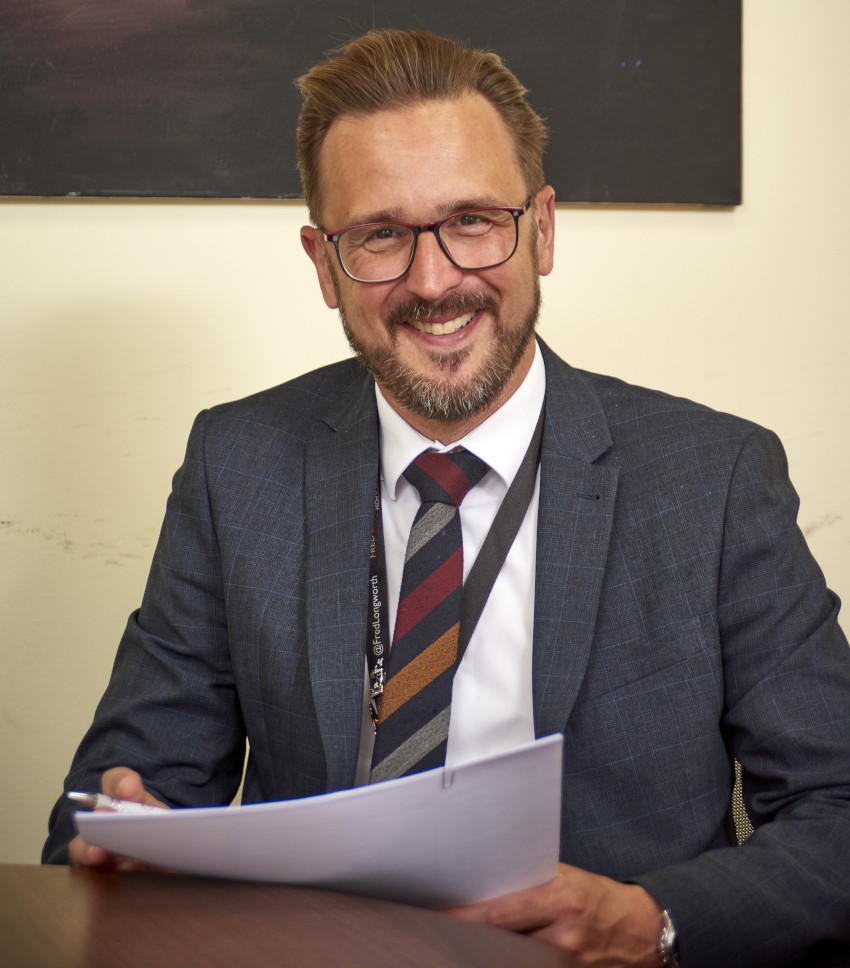 Dear Parents and Carers,
We have had a really positive week in school this week. On Wednesday we welcomed a variety of external speakers into school to work with our Year 8 students for their world of work day. Their feedback about the students was extremely positive. It was also an absolute pleasure to welcome into our school on Thursday evening our prize winners for the annual Prize Giving event. These students are a real credit to themselves and their families. Well done to all! 
On Monday we held our Student-Led Conferences. Thank-you to all parents who took the time to attend and thank-you providing us with constructive feedback on how to improve the evening.  I share with you some of the other comments from our parental feedback survey. I think these reflect the purpose of the evening and its value.  These also contain a few 'shout-outs' to some of our staff.
Regards,
Mr Davies.
Feedback from Student-Led Conference
"It was a delight to see my daughter speak independently about her learning, topics she enjoyed and areas she felt needs to develop. To see her grow in confidence, from previous anxieties around public speaking to develop and produce an outstanding presentation, was heartfelt to watch and hear, as well as how she has become an amazing student at Freddie's. What a difference time makes."
"Love hearing about the progress and achievements. Mr Perrot is just an absolute star, as a family we hold him in such high regard. My son really looks up to Mr Perrot and has huge respect for him. Thank you for everything you do."
"The teacher was warm and inviting and got the most out of my child being like this and it was a very positive meeting."
"This was a valuable addition to the parent/teacher evening, encouraging greater student involvement and developing oracy skills. It pushed my child out of his comfort zone but a valuable experience. Thank you."
"I found today's visit very worthwhile. I'm very pleased with the progress my daughter is making at this school."
"Very impressed with the pastoral care at Freddie's. Keeps students accountable for attendance and progress throughout the year. Great idea."
"I think these conferences are so valuable in allowing the students to take ownership of their learning and development. It also allows them to develop confidence in presenting information about themselves and feeling a little out of their comfort zone."
"I enjoyed the session. It was good to hear my child discuss how they feel this academic year has gone. Detailing the things they have enjoyed and the areas they feel they can improve on."
"It was really nice having the opportunity to come into school and listen to my son talk about school. He is very quiet - I hope he will become more confident as he moves through school and therefore gets more out of future conferences. Thanks for arranging the conferences."
"I was very pleased with the way the conference was led with both the student and teacher, I saw a great improvement in the confidence my daughter has gained since last year and enjoyed seeing some of her work and hearing what she is proud of and how she would improve areas she has been less successful with this year."
"This was a great opportunity to hear some of the areas that my daughter has improved on this year and as discussed confidently what she is proud of. It was good to hear what her plans are for next year with her options and how she can improve with her attendance and also her homework. Tonight, I got to see and hear how I can support my daughter also. Thank you."
"Really nice to catch up with the form teacher and chat about learning. Great to get the students involved in their own learning rather than it being stated to them."
"Brilliant meeting with Mrs Roberts. So proud and lovely to hear my son talk about his successes and what he is proud of in school."
"I am impressed with how the school has helped my child to improve in confidence this year."
"Mrs Dobson was so nurturing and praising to my child - she came out of the meeting very happy."
"The conference is positive as it helps young people reflect on their year and develop their confidence. I enjoy attending them as they are informative and it allows me to show how very proud I am of my children."
"The Student-Led Conference is a very good initiative which I will encourage the school to continue to sustain. It has helped me as a parent to get a better clarification about the activities that my child is doing in school. Thank you."
"This gave a great insight to where our daughter is currently at with her learning journey. Wonderful to hear her working her way through various situations. Thank you."
"Good idea to get pupils to take ownership of the learning."
"Great idea - enjoyed meeting the form tutor. Great to see my son in his own environment. I can see how much he has grown in confidence, and he is really proud to be part of Freddies!"
"Important to encourage the children to talk about themselves strengths and weaknesses as they will need to do this in an interview situation."
"Thank you for giving us this opportunity."