Miner, Union Secretary and Local Councillor. We take a look at the man who our school is named after.
Miner, Union Secretary and Local Councillor. We take a look at the man who our school is named after.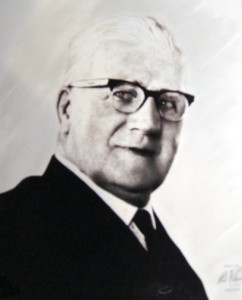 This local hero was one of the most famous names in the district. He enjoyed a remarkable career in local government which culminated in a knighthood and earned him the respect and admiration of his colleagues. A deeply religious man, he lived in Tyldesley for virtually all his life and dedicated much of his spare time to education in his adopted home. His reward was to have the biggest school in town named in his honour.
Born in Farnworth in 1890, Fred was one of ten children. The family moved to Tyldesley when he was 10 years old and he completed his schooling in Upper George Street, eventually leaving aged 14 to work in the pits. His first job was on the surface at Cleworth Hall Colliery, but he was soon working underground at several local pits.
He joined the Labour Party aged 17 and just two years later his talent for administration was spotted and he was elected secretary of Tyldesley and Astley Miners' Checkweigh Society. Later in his career he became President of Tyldesley and Astley NUM, and then went on to become it's full time Secretary, retiring in 1955.
From 1911 he served as a lay preacher at Shuttle Street Methodist Church and it was here he met the love of his life – Mary Smith. The couple tied the knot in Bolton on 23 November 1916, and were to remain married for 57 years.
While his career with the NUM blossomed, Fred's first taste of local government had to wait until 1940 when he was elected to Tyldesley Council as a member for the Shakerley ward. He went on to become chairman of the council in 1948/49 and again in 1961/62. In March 1946 he joined Lancashire County Council and his tireless service was recognised six years later when he was made an alderman.
Somehow, Fred succeeded for years in juggling his full time union job, membership of two councils and chairmanship of several committees. Nothing was ever tackled half-hearted, especially his love of education where he was a governor of five local schools, Lancaster University, Edge Hill College and many more.
The 1960s were to prove a memorable time for Fred. In 1964 he was appointed chairman of the County Council and the same year a new girls' secondary school in Tyldesley was named after him. It later combined with the boys' school and it is now Fred Longworth High School.
In 1966 a telegram arrived at his home at 30 Crawford Avenue, Tyldesley, offering him a knighthood in recognition of his political and public services in Lancashire. He immediately accepted, to become the first man living in Tyldesley to be knighted since Sir Thomas Tyldesley in 1643. On the day of his investiture the Queen was on a Jamaican tour, so the Queen Mother performed the ceremony. To complete the celebrations the same year Fred and Mary, who had no children, celebrated their golden wedding anniversary.
By 1970 Fred had completed his 30th year with Tyldesley council and, aged 80, he decided to retire. Three years later, on 29 August 1973 he died at his home. His funeral service, led by widow Mary, took place at his beloved Tyldesley Methodist Church.